| | | | | | | | | |
| --- | --- | --- | --- | --- | --- | --- | --- | --- |
| | Song Heading | Singer | Music By | Lyricist | Movie / Album | Actor | Category | |
| | |
| --- | --- |
| Video of the song from youtube | Advertisements |
| | |
Lyrics / Video of Song : Banarasiya Haye Banarasiya
bana rasiya haye bana rasiya 
bana rasiya haye bana rasiya 
rang me bhang ya bhang me rang bana rasiya 
haye bana rasiya 
sang me jang ya jang me sang bana rasiya 
haye bana rasiya 
haye bana rasiya 
bana rasiya 

chaal chalake har hushyari janat yu tu 
sab nar naari 
chaal chalake har hushyari janat yu tu 
sab nar naari
man ke par bhole bhandari 
man ke par bhole bhandari 
ghat kinare umar gujare 
ghat bana rasiya 
haye ghat bana rasiya 
ghat bana rasiya 
thato me that bana rasiya 
haye haye that bana rasiya 
thato me that bana rasiya 
thato me that bana rasiya 
that bana rasiya 
haye haye that bana rasiya 
rang me bhang ya bhang me rang bana rasiya 
haye bana rasiya 
sang me jang ya jang me sang bana rasiya 
haye bana rasiya 

rang me bhang ya bhang me rang 
sang me jang ya jang me sang
rang me bhang ya bhang me rang bana rasiya 
sang me jang ya jang me sang bana rasiya 
bana rasiya haye bana rasiya 

turat furat me sab kar jave aaye jo apni aave 
turat furat me sab kar jave aaye jo apni aave 
gaal me jab ye paan dabave 
gaal me jab ye paan dabave 
tin taal me chalte jave 
baat bana rasiya 
haye baat bana rasiya 
baat bana rasiya 
thato me that bana rasiya 
haye haye that bana rasiya 
thato me that bana rasiya 
haye haye that bana rasiya
that bana rasiya
haye haye that bana rasiya
rang me bhang ya bhang me rang bana rasiya 
haye bana rasiya 
sang me jang ya jang me sang bana rasiya 
haye bana rasiya 
bana rasiya 
haye bana rasiya 
bana rasiya 
haye bana rasiya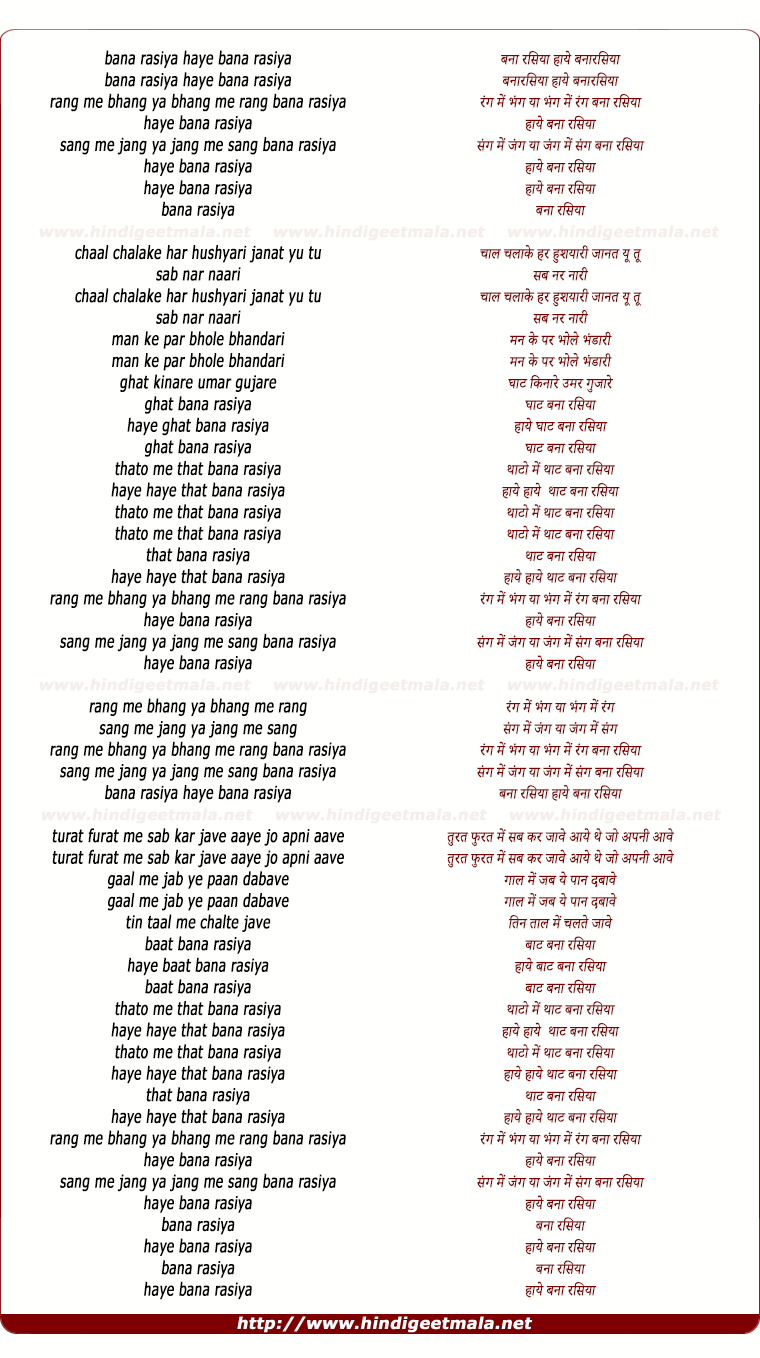 | | | |
| --- | --- | --- |
| | Top user comments for lyrics of song "Banarasiya Haye Banarasiya" | |
Shah Shaheen

on Sunday, June 09, 2013


Yes actors like Nawazuddin , Nana and Irfan are great but they dont get respect from bollywood industry as much as Dhanush and others get from Tamil. Tamil respect the talent despite the color critieria. not like Bollywood who were always obsessed with 'color and look' criteria first Shahrukh then Hrithik and now Ranbir is getting popular hindi film awards. who cares about Nana Patekar , Nawazuddin Siddiqui , Manoj Bajpai, Irfan Khan ,,, and even Ajay Devgan !!!



Shah Shaheen

on Saturday, June 15, 2013


it looks like you didnt understand what is my point. i am talking about bollywood and not national awards. i hope you know whats the difference between Indian Cinema and bollywood. And about my pic. whats wrong in putting some one else' picture.? see whats my pose in this pic. holding ears is a gesture of humble and simplicity when we talk about big things and big personalities. Didnt understood..? then theres no meaning talking more on this with you.



Shah Shaheen

on Thursday, June 13, 2013


You are missing many points. Good looking and charismatic ? whats the criteria of being a good looking actor ? is good looking only based on color ? Tell me why Rajnikanth is popular in many countries mostly in Japan, but not in bollywood. Bollywood respect Rajni, but only see him as comic character spoofing always with dialogues like "MIND IT ,,, RASCALA " ... he rarely acts in Hindi movies.why nobody choose him ?



vjunloc1

on Sunday, June 09, 2013


MrOutstandingtuber, you really are "outstanding", because you have no idea about something called "context". My comment was a response to Lakshmi's popular comment saying - he came to teach "All" bollywood heroes, bollywood is not just about "John Abraham, Salman, shahrukh etc", there are so many people doing serious cinema, but it won't be visible to narrow minded people like you, It's best, you go enjoy your un realistic action sequences and turn normal actors in to gods(build their temples).



pogo874u

on Friday, June 28, 2013


Wow,dude u said it.Even i was not aware of dis until i read Anurag kashyap's interview recently where he says he s big fan of offbeat(wid bit commercial) and neo noir genre movies taken in tamil cinema. P.S - Tamil cinema is not just about commercial masala movies of Rajinikanth etc. Its above tat.2 know more please google:anurag kashyap gow interview 2011 n read d first few links u get.FYI,thr s kind f independent film revolution happenin as well coz f an actor Vijay sethupathi. NO OFFENCE :-)



Vaishali Menon

on Tuesday, June 25, 2013


Why do we Indians always have to create differences unmindful of whether it is an insult or compliment. When A.R won the Oscar we saw him as an Indian not a Tamilian. Tamil Nadu has HUGE respect for Dr. Ambedkar but he is from Madhya Pradhesh. Nobody cares that Gandhi is a Gujarathi he is an Indian first. No matter what our precious ones are be it actors, scientists, etc., be glad that an INDIAN acted well in an INDIAN movie and may be our INDIAN cinema can produce equal and better talents



Andrew Persaud

on Saturday, June 15, 2013


I categorized good looks and charisma as two separate categories. I agree that good looks isn't required if you have charisma. SRK is a good example. Keep in mind I am not talking about success itself. I am talking about mainstream success. Or in other words..superstar. Talent alone will not make you a superstar. There are many actors who have more talent than most of bollywoods superstars. However they lack the traits previously mentioned, which is why they are not superstars.



Stars_in_the_sky

on Thursday, June 13, 2013


think u r wrong.talents, dedication and hardwork contribute more to success than looks.good looks are a plus,but ppl tend to overlook it when the acting makes up for it.charsima can be acquired even w/o good looks..dont think Matt Damon is handosme(hez my fav btw) or even Marlon Brando for that matter, but they did go pretty far in hollywood.AB Sr is a legend, but i don't think his looks made any contribution in his case.mean no disrespect, shared my opinion thtz all.



5almanRocks

on Sunday, June 09, 2013


DhanuSH is Awsm. And we can assume it from the trailer. What happens if he is black? . Bhai kabhi gaon bhi jaya kariye, waha ladke aise black hi hote hai. So from movie point of view he was perfectly casted. Finally we will find it soon how Good actor he is.. Soon! He have looks, he have his chameleon instinct to change according to roll, he is fine actor, he can deliver anything you want..he might be black but wen he is on screen he make us to forget tat fact.



junior dossantos

on Sunday, June 09, 2013


wow you are really good in twisting i replied 2 u bcoz u said u saw his award winning movie he always had lungi in his mouth and nothing special.i still dont know u have seen the film or just the song.some fans say he will teach acting to bollywood that is wrong he just came to act.i am not his fan.and south people building temples it was past generation not now no such thing happened for past 18yrs and the person you mentioned are all character artists not hereos.


View all 157 comments related to song Banarasiya Haye Banarasiya



Raanjhanaa

Film cast:

Dhanush

,

Sonam Kapoor

,

Abhay Deol

,

Swara Bhaskar

,

Mohammed Zeeshan Ayyub

,

Kumud Mishra

Singer:
Shreya Ghoshal, Sukhwinder Singh, Madhushree, Chinmayee, Aanchal Sethi, Rashid Ali, Neeti Mohan, A R Rahman, Rabbi Shergill, Shiraz Uppal, Jaswinder Singh, Javed Ali
Lyricist:
Irshad Kamil
Music Director:

A R Rahman

Film Director:

Aanand. L. Rai

Film Producer:

Krishika Lulla

External Links:
Raanjhanaa at IMDB Raanjhanaa at Wikipedia