| | | | | | | | | |
| --- | --- | --- | --- | --- | --- | --- | --- | --- |
| | Song Heading | Singer | Music By | Lyricist | Movie / Album | Actor | Category | |
| | |
| --- | --- |
| Video of the song from youtube | Advertisements |
| | |
Lyrics of Ai Mere Mushkil Kushaa, Bekas Pe Karam Kijiye, Sarkaar-E-Madinaa - ऐ मेरे मुश्किल-कुशा, फ़रियाद है, फ़रियाद है
ai mere mushkil-kushaa, fariyaad hai, fariyad hai
aapake hote hue duniyaa meri barabad hai

bekas pe karam kijiye, sarkaar-e-madina
bekas pe karam kijiye
gardish me hai taqadir bhanvar me hai safina
gardish me hai taqadir bhanvar me hai safina		
bekas pe karam kijiye, sarkaar-e-madina
bekas pe karam kijiye

hai vaqt-e-madad aai bigadi ko banane
goshida nahi aapase kuchh dil ke fasane
zakhmo se bhara hai kisi majabur kaa sina
bekas pe karam kijiye 

chhaai hai musibat ki ghata gesuo vale, gesuo vale
lillah meri dubati kashti ko bachale
tufan ke aasar hai, dushvar hai jina
bekas pe karam kijiye 
gardish me hai taqadir bhanvar me hai safina
bekas pe karam kijiye, sarkaar-e-madina
bekas pe karam kijiye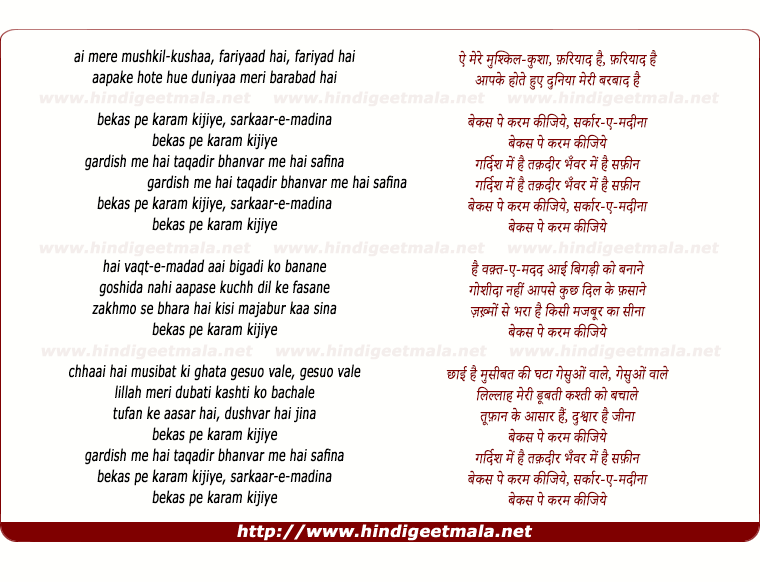 | | | |
| --- | --- | --- |
| | Comments for lyrics of song "Ai Mere Mushkil Kushaa, Bekas Pe Karam Kijiye, Sarkaar-E-Madinaa" | |
Shruti Shankar Srivastava

on Sunday, November 30, 2014


ऐ मेरे मुश्किलकुशा, फ़रियाद है, फ़रियाद है आपके होते हुए दुनिया मेरी बरबाद है ai mere mushkil-kushaa.n fariyaad hai Oh, my savior! Please heed this complaint. aap ke hote hue duniyaa merii barbaad hai (Although I remain devoted to you)even when you are there, my world is being destroyed. बेकस पे करम कीजिये, सरकार-ए-मदीना गर्दिश में है तक़दीर, भँवर में है सफ़ीना बेकस पे करम कीजिये bekas pe karam kiijiye, sarkaar-e-madiinaa have mercy upon this wretched soul, oh leader of the holy city. gardish me.n hai taqdiir, bha.nvar me.n safiinaa My fate revolves in a vicious cycle, while my ark is stranded in a whirlpool है वक़्त-ए-मदद आइये बिगड़ी को बनाने गोशीदा नहीं आपसे कुछ दिल के फ़साने ज़ख़्मों से भरा है किसी मजबूर का सीना बेकस पे करम कीजिये… hai vaqt-e-madad, aaiye bigaDii ko banaane As the time for aid has arrived, please come and resolve my troubles. poshiidaa nahii.n aap se kuchh dil ke fasaane no tales of my heart are hidden from you. zakhmo.n se bharaa hai kisii majbuur kaa siinaa some helpless devotee's chest is marked by many wounds. छाई है मुसीबत की घटा गेसुओं वाले, गेसुओं वाले लिल्लाह मेरी डूबती कश्ती को बचाले तूफ़ान के आसार हैं, दुश्वार है जीना बेकस पे करम कीजिये, सरकार-ए-मदीना गर्दिश में है तक़दीर, भँवर में है सफ़ीना बेकस पे करम कीजिये chhaayii hai musiibat kii ghaTaa gesuuo.n vaale The dark lock-like clouds of misfortune have cast upon me. lilaah merii Duubtii kashtii ko bachaa le.n May the Lord rescue my sinking boat. tuufaan ke aasaar hai.n, dushvaar hai jiinaa With signs of an impending storm, my life is in danger. bekas pe karam kiijiye, sarkaar-e-madiinaa have mercy upon this wretched soul, oh leader of the holy city. -



Amarjit Madan

on Friday, January 09, 2015


Zakhmo se bhara hai kisi majboor ka seena Shakeel Naushad and Lata as usual at their Best presentation.



sjnddn

on Sunday, August 05, 2012


bt dis marriage throws madhuballa into more dipression. Madhu Bhushan syster of madubala sed in intrview that "Kishor Kumar" was'nt good husband as he maried to madhubala's fem, reportly madhu bhushan said that he iritated with illed madhuballa so much that he slapped her many times to get rid off her due to dis madhubala pushed more nearer to her death n she alwys mised her true love dilip kumar, in her last breathing she sed that "EK BAR YOUSUF SAHAB Ke DIDAR HOJAYE":'( n passed away in 1968.



sjnddn

on Sunday, August 05, 2012


dilip kumar did'nt refused love of madhubalaji. infact de engaged and seperated in 1956. the reason for separation of this couple are B.R Chopra movie and othr facts. Madhubalaji's father is so protective abt his doter cos of her illness(she got hole in her heart).B.R chopra's movie shuting was scheduled in "Gwalior".madhuji's fathr askd to chng d loc but prodcr dint, so madhubala quit the movie, then BR chopra seek the help of dilip to cnvnce but her father dint agree, thn all okays till 1956



sjnddn

on Sunday, August 05, 2012


in 1956 dilip kumar proposed madhuballaji for marriage, madhubala agreed but on a condition dilip kumar shld apologies to her father but dilip kumar refused, this small incident seperated them and sourced says that they both heart vry badly and all the scence in the movi come so real cos of love b/w them. wen dilip kumar married sahera banu in 1962 madhubala got so dipressed and her heart effected more cos of dipression, in that stubbornness n dipression she married Kishor Kumar legry singr .



qzhussain

on Sunday, July 15, 2012


Iendorse your views.Naushads music is unparalled,which has not been reproduced until this day.moreover lyrics were meaningful and heart touching those days.Now it is "chalta"attitude which leaves bad taste and reveals the bad taste of both filmmakers and viewers.something should be done to bring back the good old approach.



nayanmalig

on Sunday, July 08, 2012


fantastic. normally they mess up trying to jazz up old hits with new technology.this a rare exception. I like Naushad' s music so much that I watched this film thrice in one day at a cinema . (purely for the music). I like Dilip & Madhubala too. I have watched some other films like madhumati thrice the same day.



Charulatha Mani

on Saturday, September 14, 2013


Set in raag Kedar, one of Lata Mangeshkar's finest songs from Mughal-e-Azam. The string section interludes are heartwarming, conveying the poignancy of the situation in every phrase.



anindita93

on Friday, June 22, 2012


Her performance seemed so real as she was involved with Dilip Kumar those days. It was almost like what she was going through in real life. Unrequited love.



Akmal

on Saturday, June 06, 2015


most beautiful Naat e Rasool e Muhammad e Madani. beautifully sung by a heavenly voice and artist Lata Mageshkar! she has sung with all her heart!


View all 36 comments related to song Ai Mere Mushkil Kushaa, Bekas Pe Karam Kijiye, Sarkaar-E-Madinaa - ऐ मेरे मुश्किल-कुशा, फ़रियाद है, फ़रियाद है



Mughal-e-Azam

Film cast:

Dilip Kumar

,

Madhubala

,

Murad

,

Nigar Sultana

,

Ajit

,

Durga Khote

,

Prithviraj Kapoor

,

Kumar

,

Jillo

,

Vijayalaxmi

,

Nazir

,

Surendra

,

Johnny Walker

,

Baby Tabassum

Singer:
Ali Khan, Bade Gulam Ali, Lata Mangeshkar, Shamshad Begum, Ustad Gulam
Lyricist:
Shakeel Badayuni
Music Director:

Naushad Ali

Film Director:

K Asif

Film Producer:

K Asif

External Links:
Mughal-e-Azam at IMDB Mughal-e-Azam at Wikipedia
Watch Full Movie:
Mughal-e-Azam at YouTube
| | | |
| --- | --- | --- |
| | Please submit your comments / give your feedback on this page | |